By Jack Werk
The A.P. Indy sire line in North America is being carried on notably by Claiborne's Pulpit, who stood for $80,000 last year but whose stud fee has been reduced to $60,000 for 2010. I applaud Claiborne's decision to lower the fee on a top stallion that most farms would probably have kept the same for next year, because Pulpit's fee, based on his offspring's performances in 2009, didn't really didn't need to come down.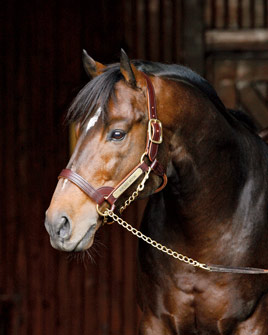 After Pulpit, the next best son of A.P. Indy in North America is Malibu Moon, whose rise from a bargain-basement stallion in Maryland at a fee of $3,000 to standing for $40,000 at Spendthrift in 2009 is one of the great Horatio Alger stories of the breeding world.
In a blog post dated Feb. 10, 2009, I wrote the following:
"Pulpit is one of many A.P. Indy stallions at stud in North America, and so far it's been tough going for many of them, Pulpit being the notable exception (We actually named him a WTC Quality chef-de-race last month). The reason is pretty obvious: Up to now, the stamina that they pass on has been in conflict with the speedy racing programs offered here. That's why some lesser-raced sons of A.P. Indy have been surprisingly more successful in places like South America and South Africa, where the racing climate is friendlier for showing off classic-type stamina. For example, sons of A.P. Indy like Indygo Shiner (G3 winner, started at stud in Argentina) and Camden Park (winner, started at stud in South Africa, now dead) have been absolute phenoms in the Southern Hemisphere, and now horses like Aptitude (Argentina) and Judpot (South Africa) figure to add to A.P. Indy's Southern Hemisphere record.
But let's not give up on his sire-making ability up North just yet as Malibu Moon is doing extremely well and stallions like Bernardini and Majestic Warrior are waiting in the wings."
With 11 SWs this year, I think we can all agree, eight months later, that Malibu Moon is actually doing better than "extremely well." In my opinion, with the retirements and/or deaths of several sires and the aging status of others, including A.P. Indy, this son of A.P. Indy has "arrived" into the big time! And he showed it once again with the Oct. 10 victory of 2-year-old filly Devil May Care (Click here to view her 5-cross pedigree) in the G1 Frizette at Belmont Park to become his second G1 winner of the year! Earlier this year, also at Belmont, Malibu Moon's 3-year-old filly Funny Moon (Click here to view her 5-cross pedigree) won the G1 Coaching Club American Oaks over 10f. Now, previous to these to G1 winners, Malibu Moon only had two previous G1 winners (Declan's Moon and Malibu Mint), so in 2009 he has doubled his G1 total to 4 and he promises to add to that total in the future. One obvious reason is that he's getting much better quality of mares than when he first started off at Country Life Farm in Maryland for $3,000, and his mares this year at $40,000 should yield his best crop to date!
What's really exceptional about Malibu Moon is that he's one of just a handful of top sires who didn't win a stakes race! That's right; he made only two starts at 2, and won only his maiden special, in the fast time of 57.41 for 5f at Hollywood.
What's also interesting is that he's bred on the same cross as Pulpit, both of them being sons of A.P. Indy out of Mr. Prospector mares. Because of the Mr. Prospector speed influence in their pedigrees, Pulpit and Malibu Moon have been able to get stakes progeny over a wide range of distances, including good 2-year-olds. This, of course, is why these two stallions have fared better here than some of the other A.P. Indys, who, like I mentioned in my post from February, may have too much stamina for their own good here.
In Malibu Moon's case, he's the sire of 25 unrestricted SWs (not counting at least 11 of his early SWs that were restricted Maryland-bred SWs) with just his 6th crop racing. Inncredibly 13 of 25 won stakes at 2, and two of his four G1 winners were also 2-year-olds!
Remember, Malibu Moon himself was a fast 2-year-old, and his Mr. P dam, Macoumba, was a G1 winner at 2 as well. However, the Malibu Moon's still get their dose of stamina from A.P. Indy, which is why they can win races like the CC American Oaks at 10f.
Surprisingly, Malibu has carved a niche for himself in Russia. It all started when they purchased Moon Thistle, a daughter of Malibu Moon, for $4,000 as a 2-year-old in training in 2003 from Maryland. The next year she won the Russian Oaks. Ever since, the Russians have been buying cheap Malibu Moons at auction, and this year, in fact, the Malibu Moon colt Static Memory won the Russian Derby! The Russian races, unfortunately, do not qualify for international black type.
The Malibu Moon 2-year-olds of 2009 were conceived on a $40,000 stud fee, which is what the stallion has stood for over the last three seasons in Kentucky. Expect his stock to continue to rise as well as his position in the stallion standings. Time to get on board the Malibu Moon express!